Furnace Maintenance And Cleaning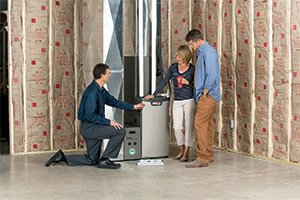 Do you find yourself constantly adjusting your thermostat? Are you tired of excessively high utility bills? Is your furnace failing to keep up with the temperature swings in the Evansville area? If you answered yes to any of these questions, your furnace might be in desperate need of a tune-up from Brackett Heating and Air. This is an affordable yearly service that is beneficial not only to your furnace, but your wallet as well.
Save Money On Energy Use: A clean and properly adjusted system operates more efficiently and uses far less energy than one that has not been properly maintained. Having Brackett Heating and Air clean your furnace each and every year will help you keep more money in your pocket and your utility bills down.
Increased Comfort: A buildup of dirt or rust can obstruct the flames from burning as hot as they should. This will decrease your comfort as you wait forever for your furnace to meet your desired temperature. Brackett Heating and Air will scrub down all components of your system so you can enjoy reliable heat all season long.
Prevent Breakdowns: The majority of furnace breakdowns can be traced back to improper regular maintenance. Avoid expensive cost of frequent breakdowns with one of our preventative maintenance programs, and have Brackett Heating and Air professionally clean and tune-up your furnace yearly.
No Breakdown Guarantee:
When you have your heating system maintained by Brackett Heating and Air, it's covered by our "No Breakdown Guarantee." As long as you accept the repairs we recommend when we do your maintenance, we will return during that current season free of charge if a breakdown occurs!*
Furnace Tune Up Check List

Clean burners
Clean blower compartment
Check and clean ignition device
Test ignition device
Replace air filter
Inspect heat exchanger for cracks and rusting
Inspect vent for leaks and obstructions
Check thermostat connections and level if needed
Inspect electrical components for loose connections
Startup & test operations
Adjust burners for proper combustion as necessary
Check burners for flame impingement
Test blower capacitor
Check temperature rise
Condensate drain inspection, clean out if necessary
Flame sensor clean and tested
Inducer inspection and amp draw
Gas valve inspection and amp draw
Blower inspection and amp draw
Ignitor inspection and amp draw
Blower CFM correction if needed
Condensate trap cleaned
Thermostat inspection and battery test
Inspect electrical power and ground
Inspect transformer for correct voltage
Final report of total health of furnace system
Call Us Today!
Or click below to schedule your next cleaning!