Air Conditioner Repair Services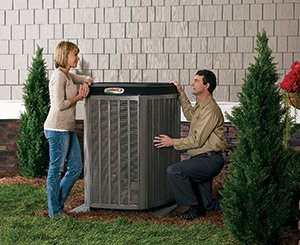 The number one reason Air Conditioners need repair is a failure to properly maintain them. Even in the middle of Evansville's hot summers, our professionally trained AC repair technicians can restore comfort to your home in just a few short hours. Even better, it won't drain your wallet.
Brackett Heating and Air offers affordable repairs on all makes and models.
Emergency Cooling Repairs
Brackett Heating and Air understands the importance of your comfort, which is why we have a streamline process designed so you don't have to jump through hoops or read the fine print to find honest HVAC services in the Evansville area. We are constantly evolving our business to meet the needs of our customers, and here are just a few reasons why Brackett Heating and Air is a cut above the rest.
We're In Your Neighborhood: From Spencer County to Posey County, Gibson, Warrick, and Vanderburgh County, and the rest of the Tri-State, Brackett Heating and Air has an air conditioning repair technician ready to respond to your call immediately.
All Makes and Models: Brackett Heating and Air has the experience and knowledge to service any make or model air conditioner. Have a Heat Pump that won't cool? That's ok, we can repair those too!
No Hassles: Our technicians are up front and honest, and will present you with a firm quote for your repair needs.
Reputation Matters: With acclaims like our A+ rating with the Better Business Bureau, Reader's Choice Award, and our other customer service awards, you can trust that your air conditioner is in good hands with Brackett Heating and Air. Your satisfaction is our guarantee!
Industry Experts: Keeping current with the changes in our industry is our top priority! You expect knowledgeable technicians and so do we, which is why they are constantly involved in monthly training to keep their skills sharp.